Air Duct & Dryer Vent Cleaning Services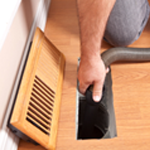 Residential Air Duct Cleaning
Why You Need to Clean Your Air Duct
We need to be conscious of our living environment. Cleaning your surroundings to get rid of germs and bacteria goes beyond sweeping and mopping the rooms. Most times, contaminants hide in places we cannot access, such as the HVAC system. Mold, bacteria, and other pollutants build up in the HVAC system and spread out through the air. The chances of getting ill are high when you inhale this contaminated air.
According to the EPA (Environmental Protection Agency), outdoor air is 30 percent less polluted than the indoor air. When you abandon your air duct for a long time, dust, bacteria, and other debris establish themselves in difficult areas such as the HVAC system. To avoid health complications, you should clean your HVAC system regularly. This practice will help to keep illnesses and allergies under check.
SAI Air Comfort offers households the best possible air duct cleaning. With many years of experience in duct cleaning, having served Chicago and its axis, we understand what it requires to clean air duct and dryer vent perfectly. We are conversant with the complexity of most HVAC systems, which is why we come up with a superb strategy to get it cleaned, leaving no traces of pollution behind.
The Effect of Cleaning Your Air Duct
Indoor air quality goes beyond air duct cleaning. However, it is essential to know that air duct cleaning is an indispensable component of getting good indoor air quality. SAI Air Comfort provides soothing answers to your curiosity about air duct cleaning services. Our services give you an understanding of what constitutes air quality. Does anyone in your residence react to allergies? Does anyone find it difficult to breathe properly in your home? If yes, cleaning your air ducts may be the solution to their challenges. SAI Air Comfort is available to clean your duct when you notice any of the challenges listed below. Consult us today for an assessment of your air duct cleaning needs. Our experts will attend to you passionately.
You can count on us to do a thorough air duct cleaning job. We have in our possession modern equipment that aids effective cleaning services. It doesn't matter if the house has been abandoned for many years. We are capable of getting the duct cleaned to your satisfaction. SAI Air Comfort air duct cleaning services are tested and trusted. Our cleaning process goes the extra mile to ensure maximum satisfaction for our customers. After we complete our job, you can easily spot the difference in the air you inhale before and after cleaning. Our vacuum trucks are powerful, and they enable us to get rid of contaminated air in your residence.
SAI Air ComfortDuct Cleaning Strategy
Our technicians at SAI Air Comfort are knowledgeable. We clean air duct from all levels and ensure we don't tamper with your properties, which is why we are extra careful with our cleaning processes. We render professional duct cleaning services based on certified principles put in place by the Indoor Air Quality Association. At SAI Air Comfort, we make use of the latest techniques and state of the art equipment to clean your environment thoroughly, thus, rendering your home safe and healthy.
SAI Air Comfort is a call away from providing the best air duct cleaning for you and your family. Contact us now to start inhaling cleaner air.
Your air duct requires cleaning when you notice any of the following signs
• Unclean supply and return vent cover
• Unpleasant lines around the vents
• Dust everywhere in the building
• The difference in air supply across the home
• HVAC requiring additional power to function
• A newly constructed project requires air duct cleaning
This is what to expect when professionals from SAI Air Comfort renders air duct cleaning services for your home
• The air in your home will be of high quality – fresh and pure
• Removal of odors, dust, and contaminant from every aspect of your home
• Elimination of harmful microbial pollutants
• Improve the functions of your HVAC
• Saves you cost on energy bills
Commercial Air Duct Cleaning
The best business environment is that with healthy air, that makes everyone feel comfortable performing their duties. A complex organization's structure gives room for harmful contaminants to build up and spread into the air. Much similar to air duct for every home, your office air duct gathers dust, bacteria, dirt, and mold, which may be inimical to your health. The air supply from such an HVAC system can work against your productivity and healthy living.
SAI Air Comfort provides your business with quality commercial air duct cleaning services that bring about healthier indoor air and a sound and safe working environment. Our technicians are experienced, well equipped, and follow NADCA principles in the course of rendering air duct cleaning services. With the aid of our advanced equipment, you rest assured of good indoor air quality in your offices. After thorough air duct cleaning services, you will begin to feel the fresh and healthy air instantly.
Irrespective of the size of your business, facility, or commercial space or organization, SAI Air Comfort possesses the equipment to clean your air duct to your satisfaction. We understand that many businesses don't want the disruption of business activities during working hours. Based on this, we are available to provide commercial air duct cleaning services for your business seven days a week. Also, we service your business air ducts during the evening hours to avoid interruption with business activities.
Why Should I Clean my Office Air Duct?
Contaminants accumulate every day in the HVAC system. Accumulation over a long period causes the system not to function correctly as a result of decreased airflow. The implication of this is an additional cost on maintenance and repairs. For this reason, your system may become inefficient, which, in turn, makes you spend more money on energy bills. To avoid spending unnecessarily, always watch out for the following signs in your offices or organization.
• Air vents releasing dust and other debris into the office space
• Seeing mold around the duct
• Dead insect and rodent droppings inside the duct
When you notice any of these signs in your office, do not hesitate to contact us at SAI Air Comfort. We guarantee you thorough removal of dirt and debris from your air duct.
Dryer Vent Cleaning
One of the biggest home fire hazards is a dirty dryer vent. In 2010-2014, U.S. municipal fire departments responded to an estimated 15,970 home fires involving clothes dryers or washing machines each year. Even if clogged dryer ducts don't lead to household damage right away, it will waste time, energy and money.
A dryer connected to vents filled with lint, dust, and dirt won't work well either. If your dryer once polished off wet loads in one cycle or less but now needs two or even three, check your ductwork. Chances are it's not your dryer that's faulty - just grimy venting that's the issue.
We use state-of-the-art equipment, including an industrial vacuum system and air powered whips and rods that thoroughly clean vents. Our service is a safe and effective air duct and dryer vent cleaning process.
SAI Air Comfort Commercial Air Duct Cleaning Benefits
• Air duct cleaning services after working hours and weekends.
• We are eradicating harmful contaminants from your business environment.
• Good indoor air quality that aids workers and clients' safety.
• Increase productivity and comfortability.
• It saves you utility and energy costs.
• Proper functioning of your HVAC system
You can count on the technical know-how and experience of SAI Air Comfort commercial air duct cleaning experts to provide exceptional services for your business. When you choose SAI Air Comfort, you get a value higher than the cost of acquiring the services.
Contact us today for the best commercial duct cleaning services at an affordable price.
FREE ESTIMATES for Air Duct Cleaning Call Sai Air Comfort: 224-435-6077