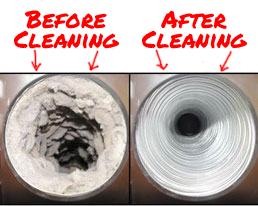 Residential Dryer Vent Cleaning
It is unknown to many that dryers can cause structural fire, which can consume properties and lives. What usually leads to this fire is the clogged dryer vent. It necessary for homeowners to keep to mind the last time they clean their dryer vent. Lint and debris accumulate in the dryer vent from the first day of usage.
Dryer vents require regular cleaning not because it saves energy cost, but for safety purpose. Leaving your dryer vent for more than a year without cleaning may cause a fire because it is highly combustible. Therefore, it is of utmost importance to prevent it from blocking to avoid an uncontrollable fire hazard.
What Does Dryer Vent Cleaning Imply?
This implies the removal of debris and lint from the venting system of your dryer to prevent a fire outbreak. It becomes imperative always to remember the last time you get your vent cleaned for safety reasons. Always hire experts for your dryer vent cleaning for higher assurance of thorough lint and debris removal from your dryer vent.
At SAI Air Comfort, our state of the art equipment helps us to provide homes with dryer vent cleaning. With the aid of air through our unique tools, we force air into your dryer vent to remove lint and debris. We ensure your dryer venting system is free and safe to use. Our experts at SAI Air Comfort will assess your dryer vent and provide a satisfactory vent cleaning service for your home.
When Should I Clean My Dryer Vent?
Dryer vent cleaning differs for every home, depending on usage. However, you need to inspect your dryer vent every three months, and cleaning should not exceed a year. Some homes are heavy users of the dryer vent, making use of it once or twice every day. The households that fall in this category should endeavor to consult a technician for assessment and scheduling on the interval between two dryer vent cleanings. For homes that are not heavy users, a year interval is suitable for their dryer vent cleaning.
NOTE: Regardless of whether your dryer vent gets cleaned regularly, lint is not entirely removed. Researchers have it that the lint trap you pull out of your dryer accumulates only 30 percent of the dust from your clothes. This implies that the rest passes to the venting system, gradually blocking the channel and decreasing airflow. This causes the dryer to work forcefully. It increases your energy bills and reduces your safety level because clogged dryer vent may cause a fire. Always take note of your usage and the last time you use your dryer. You should adhere to your dryer vent cleaning plan.
Benefits of Dryer Vent Cleaning
• Your clothes dry on time
• Alleviate excessive clothes hotness after drying
• Assurance of safety
• Saves you additional cost
• Low energy usage
• Increases the durability of your appliance
• Keeps fire in check
• Properties remain intact
At SAI Air Comfort, we don't take safety with light hands. We are willing to provide your household with professional dryer vent cleaning for your family and property safety. Our services help you save more every month.
What to Expect From SAI Air Comfort Dryer Vent Cleaning
The lint trap and tailpipe are some areas of your dryer vents that do not require professional dryer vent cleaning services. However, the core venting system needs the presence of professionals, such as the pipes installed in the walls and ceilings. Our latest technology at SAI Air Comfort equipped our experts to get your dryer vent cleaned in less than 25 minutes. Our powerful vacuum trucks help us to clean your venting system from the outside of your home.
Commercial Dryer Vent Cleaning
Are you a frequent user of a clothes dryer in your business? Do you engage in high volumes of laundry? If your answer to those questions is yes, then you should take commercial dryer vent cleaning seriously for individual and business safety. According to a report, Over 14,000 clothes dryers catch fire every year, damaging a lot of properties and lives in the process. Also, dryer vent gets clogged when used regularly, thereby leading to inefficiency of the clothes dryer. A less efficient dryer uses more energy and increases your energy cost.
SAI Air Comfort offers commercial dryer vent cleaning services for your business safety. We are meticulous with our mode of operation. Rest assured of the complete evacuation of lint and debris from your dryer vent when we take up the responsibility to clean your dryer vent for you.
How Dryer Vent Gets Clogged
Every time you use your dryer, lint and debris pass to the vent line. They start accumulating gradually until the venting system is blocked completely. It becomes difficult for air to flow through the vent, which raises the temperature whenever you are making use of the dryer. Given the combustive nature of the vent, it may catch fire if the temperature is hotter than what it can bear. In most cases, the fire is uncontrollable, and it goes on to destroy valuables.
With SAI Air Comfort, you can prevent this from happening. Our professional technicians, with the state of the art equipment, will offer commercial dryer vent cleaning services that guarantee your safety and continued existence of your business.
How we Offer Commercial Dryer Vent Cleaning Service
SAI Air Comfort cleans dryer vent in different ways depending on your venting system. Some vents require crawling the duct to remove the lint and debris accumulated in the ductwork. While lint-removal equipment is the perfect tool to get the job done for some businesses. With the aid of our large vacuum truck and other sophisticated equipment, we clean the dryer vent thoroughly by removing the loosened lint with air pressure.
We offer commercial dryer vent cleaning services to clients in different industries, including commercial cleaners, hotels, senior care facilities, and laundromats. Your safety should be second to none. Regularly cleaning your dryer vent minimizes the risk of fire as well as saving you energy cost and increasing the efficiency of your dryer.
Tips to Reduce Fire Risk
• Ensure you clean the lint traps before and after use
• Avoid using fabric softener sheets to control the buildup of chemical film
• Endeavor to replace plastic duct behind dryers with metal ducts
• Frequent removal of lint and dust from every part of the dryer
• Always check your dryer vent when they are currently running.
• Confirm that the dryer vent releases exhaust air. If not, the duct may be clogged
You can consult us for more information. Our technicians are passionate about their jobs.
FREE ESTIMATES for Dryer Vent Cleaning Call Sai Air Comfort: 224-435-6077