Heating & Air Conditioning Repair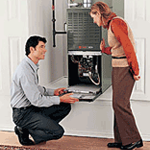 SAI Air Comfort offers heating & air conditioning repair for residential and commercial buildings in Des Plaines, IL, and its suburbs
The weather conditions in Des Plaines can be unfavorable when your air conditioning becomes faulty. In most commercial buildings, operating equipment needs air conditioning for optimization. A well-functioning heater helps to regulate the temperature during cold weather in many residential buildings. A faulty HVAC system isn't what you need.
SAI Air Comfort provides a swift response to your repair needs; we diagnose your Heating and Air Conditioning system to identify the problem, then map out the most suitable strategy to proffer solution to it. There are expert technicians at SAI Air Comfort with wide knowledge about different air conditioning brands, and this enables us to design the best solution that suits your brand. Are you thinking of how to get back your comfortable indoor conditions? Contact SAI Air Comfort for satisfactory repair.
PROOF THAT YOUR AIR CONDITIONING SYSTEM REQUIRES REPAIR
Most times, it is difficult to determine that your heating and air conditioning system is due for repair. However, with our experience at SAI Air Comfort we highlighted the signs that show your system requires repair as soon as possible.
• Your active air conditioner is not providing effective cooling of the room.
• The air conditioner switches on and off continuously.
• Increased energy cost without an increment in your air conditioner usage.
• Your air conditioner contains dust and irritants.
• The rooms are not cool in uniform manners.
Heating and air conditioning systems consist of many components that aid in its functionality. Damage to any of the parts may cause it to malfunction, thereby increasing your energy bills. As part of our heating and air conditioning repair, our professional technicians carry out a thorough examination and analysis of your heating and air conditioning system to identify the part that requires repair or replacement.
Our technicians can repair your HVAC system to your satisfaction irrespective of the complexity of your repair needs. Among the HVAC system's problems that we fix are clogged drain lines and dirty air filters. Some of the components that may require repair are capacitors, compressors, motors, broken ductwork, refrigerant lines and Freon, and thermostats.
100% ASSURANCE OF SATISFACTION
At SAI Air Comfort, we have confidence in our ability, and we do not compromise the quality of our services at any point in time. We are confident of delivering 100% satisfaction to you any time, any day. Do you have any complaints about our heating and cooling services? Tell us, and we will make it up to you. Our technicians are not only fully certified; they are passionate about their jobs, which makes us want to do more for you. You can count on us to provide excellent heating and air conditioning repair services, emergency repair inclusive.
Contact SAI Air Comfort today, we are located in Des Plaines, Illinois, but we also serve surrounding suburbs including Chicago, IL. We are highly responsive to our customer needs. Our trucks and vehicles are readily available, loaded with the necessary tools to get our job done effectively and efficiently.
We work every day, including weekends.